GRL Recap Day 4
Today was an amazing day. While many people will still be around tomorrow, it won't be the same! The last full day of events. So many wonderful panels, plus the best part is the large book signing! The evening finished off with an amazing event. Keep reading to find out more.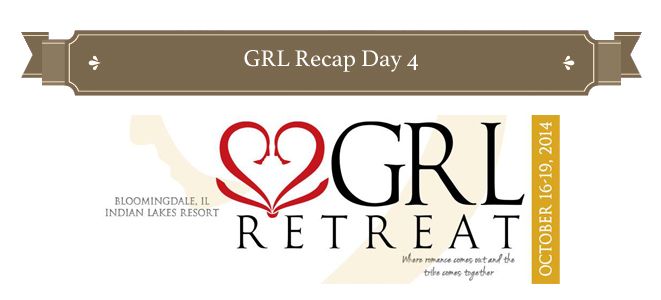 This morning I volunteered to help move all of the publisher books from one room to another for the book signing. I got up early to help but it was wonderful going behind the scenes a little bit to see how crazy it really is to set things up.
After things were set up I caught the tail end of the author reading. The book Zahara Owens read from sounded amazing. I'm going to have to buy it to find out what happens! The other two panels were Rhys Ford, Andrew Grey, and Eden Winters for Q&A; and Charlie Cochet, Jordan L. Hawk, and Kate McMurray for Storytellers: Gay Romance of the Past.
The second panel I went to the author Q&A with Shira Anthony, JP Bowie, and CR Guiliano. I loved hearing some of the authors they loved reading and influenced them when they were younger. I would have loved a chance to ask CR Guiliano more questions but that's alright. Just means I'll have to send her a message. I heard both of the other panels went well. Heidi Cullinan, Katey Hawthorne, and Hans M. Hirschi for Author Readings; and ZA Maxfield, KA Mitchell, and Jordan Castillo Price for Storytellers: Snarky and Sexy.
The very last panels of GRL 2014 were Toni Griffin, Angel Martinez, and Lori Toland for Author Q&A; DH Starr, JA Rock, and Brandon Witt for Author Readings; Sa McAuley, SJD Peterson, and Abigail Roux for Storytellers: Good Cop, Bad Cop, Drunk Cop. All good choices of panels but I had to listen to JA Rock read an excerpt. All three of the authors chose great stories and sections to read. DH Starr read a section where the two characters were working out. I enjoyed hearing the tension building between the two and now I have no know what happens next. JA Rock read from Calling The Show and it was a hysterical scene! Then Brandon read from Then The Stars Fall. I was in tears it was such a moving scene. I can't wait to read the whole book. A wonderful end to all of the panels this week.
Once lunch was over it was time for my favorite event. The booksigning! Instead of trying to carry all of my (many) books in the tote provided, I kept them all in my suitcase and took that with me. I loved having a chance to talk with some of my favorite authors and get all fan girl too. I asked pretty much each of the authors if there would be sequels to my favorites. The great thing was most of them said yes! Hooray! I even bought a few books while I was there.
There was a short break once the booksigning was over before the Samhain Sausage-fest started. It's a cocktail hors d'oeuvres type of a party where you can mingle with friends old and new.
Then a huge block of time where people have dinner and get ready for the very last party of GRL 2014. The costume party. Or, Totally Bound's Time Travel Costume Party. So many AMAZING costumes were there. I saw a mermaid, Captain Jack Sparrow, a dinosaur, and clothing from almost every era for the last hundred years. I loved the event.
Overall this year was just as much fun as last year, in fact it was more fun! I loved making new friends, meeting authors I loved, learning about new authors and books that will become favorites, and having a great time being around people that love the same things I do and just get it! I cannot wait until next year.